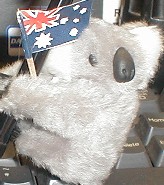 Gaday!!
Welcome to a corner of Chris n Marias site that will be for ever Australia.
Those Kind people have given me loads of space to describe my adventures - so I have. The menu on the left should guide you through my travels so far.
Have Fun & see you in cache one day Maybe.
Krazy
P.S.I have been told that I'm a very affectionate bear and I do like to hug everyone I meet.

I'll leave the last words to Chris and Maria - "Please look after this bear thankyou".